09/09/11 293 W, 1 I - + 7 - 6 Fighting Fires, Preventing Fires, Updated
Saw this yesterday on Ladder 15, which was parked outside the Milwaukee Fire Department shop, which is a neat building beside their 100+ year-old Station 3. Pictures coming, of course. Hope to have some 35 former and historic fire department structures photographed, before leaving town this morning.
Fire prevention banners, signs, and graphics on vehicles and apparatus are not uncommon. Pretty rare around our area. Fire Prevention Week is a month away. Makes me think about a Firehouse Expo workshop, and this provocative quote from a speaker. Paraphrased, it went something like this: "If we're really a brotherhood, wouldn't we do everything in our power to prevent the very fires that injure and kill firefighters, and take them away from their families?"
Had that on my list, to transcribe my notes from that workshop. But that quote-- again, paraphrased and without attribution here! Update: see below-- is a nifty discussion-starter. Suppression versus prevention. Reactive versus proactive. Heck, we could spend hours simply discussing the factors and history of how we (firefighters, the American fire service, the history of fire in America, etc.) got here. Maybe we will.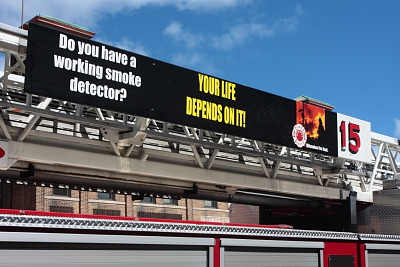 September 9 update. The above quote is attributed to Daniel Byrne, Public Relations Officer, Burton Fire District in South Carolina. He was co-presenter for the Fire Expo workshop "Public Relations & Fire Prevention: Effective Tactics for the 21st Century Fire Service." His partner was Lee Levesque, Public Relations Officer, Lady's Island/St. Helena Fire District. Watch for a transcription of that session from my notes that day. Also, here's an editorial by Byrne that's a pretty good preview of those notes, and what was talked about in the workshop.
---