09/09/11 67 W, 1 I - + 9 - 1 The Hook
As seen on scene on Grantland Drive, scene of a working fire earlier this evening. Engine 7 arriving at a one-story, wood-frame, single-family dwelling with 1,323 square-feet. Ladder 4 with the hooks and ladders, including this one. Two lines inside.
See the rest of the photos
, which features quite a bit of external flash this time around. Was trying something new.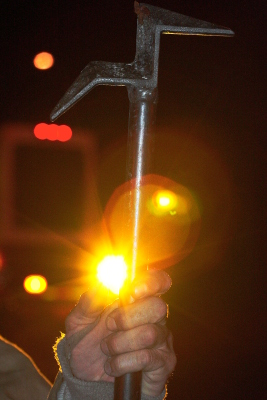 ---
As that fire was being dispatched, and they said something about an elderly lady possibly being inside, I thought of you, Mike. If the stars aligned perfectly and Blogger 100 were the first on scene, would you go into Citizen-Rescuer mode? Have you found yourself in that situation?
rfburns - 09/10/11 - 00:18
And I'm just now realizing how funny the first sentence of my last post is! I didn't mean it THAT way, honest!
rfburns - 09/10/11 - 01:44
Blog 100 is always ready to assist as needed on scene. That said, it is exceptionally rare that I find myself on scene and significantly earlier than fire or EMS units. They're usually 30 seconds or a minute out.
Legeros - 09/11/11 - 17:37