10/10/11 175 W, 1 I - + 5 - 7 Greensboro Fire Captain Dies After Marathon (updated)
From this WRAL report and this WXII story and this Chicago Sun-Times story, Greensboro Fire Department Captain William Caviness, 35, died today after collapsing during the Chicago Marathon. He was running with his brother to raise money to help burn victims, and collapsed on the course about 500 yards from the finish line. Medical personnel were able to restore his pulse, report the reports, but he died one hour and 45 minutes later. He collapsed at 10:39 a.m. at 1200 S. Indiana Avenue, and was pronounced dead at 12:03 p.m. at Mercy Hospital and Medical Center. The cause of death has not been determined.
Monday update: The Greensboro News & Record this morning provides more information. Caviness, described as a skilled distance runner, was running for the International Association of Fire Fighters (IAFF) Burn Foundation. He had raised more than $2,400 for the cause. He was a captain on Engine 14. His brother Sean is also a firefighter. Capt. Caviness leaves behind a wife and two children.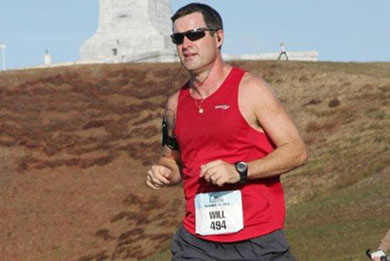 ---