11/19/11 127 W, 1 I - + 4 - 6 Big John
Big bad John. Sung by Jimmy Dean and composed by Dean and Roy Acuff. Released in September 1961, and became a number one record. Also won a grammy. Regarding sausage, Mr. Dean started that company with his brother Don in 1969. It was bought by Consolidated Foods in 1984, but he remained involved. He was the spokesman for Jimmy Dean Sausage until the early 2000s. Regarding James Bond movies, Mr. Dean played reclusive Las Vegas-living billionaire Willard Whyte. His classic quote that helps the plot turn: "Baja? I haven't got anything in Baja!" Regarding the giant toilet pictured below, that was photographed by Mrs. Blogger this morning at Raleigh's annual pre-Thanksgiving Christmas parade.
There were fire trucks there
, too!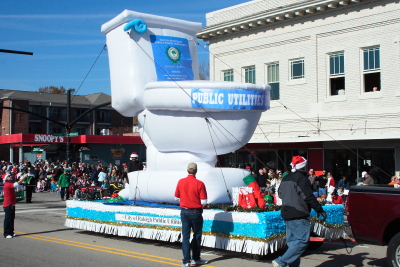 ---