12/12/11 303 W, 1 I - + 2 - 2 Picking Photos
One of my prior immersive (read: obsessive) hobbies was writing movie reviews that were posted on the Internet. Started with USENET newsgroups (remember those?) and progressed to a web site named Movie Hell. One of my annual tasks come Christmastime was writing a "year in review"-- thoughts on the hundreds of movies I had seen and the theater (and writing) experiences therein. This tradition has continued with fire photography, with an annual compilation of favorite photos. They're also linked on the archives page of www.legeros.com/firepics.
This is a time-consuming exercise, for starters. From January 1 to October 31, for example, that translates to 204 folders and 12,000+ images. Some are skimmed by looking at the thumbnails in a folder view. The majority are viewed at full-size. And everything is reviewed quickly; a fast succession of images, with just enough time to register those that make me react. The "wow" photos. The ones that make me stop scrolling. (Plus some "non-wow" photos that have sentimental or other appeal.)
It's also an instructive exercise and functions a personal performance review. I get a great self-review of my craft, as well as a chance to remember and even relive some of the captured incidents and events. (Being a fire photographer means also critiquing your behavior on scene.) The resulting collection is also useful and can serve as starting point for people looking for particular photos. Sort of a stock-photo collection. This year's set will be posted around January 1. The set will again be somewhat subjective; some/many incidents will be missing. And since I just posted a collection of people pictures, the number of faces may be smaller this time. We'll see what happens. Check back in a couple weeks.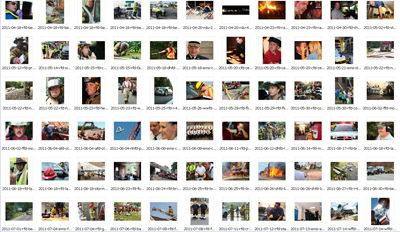 ---