12/30/11 313 W, 3 I - + 6 - 8 Yesterday's EMS Station Fire
The season's least-expected structure fire shut down Six Forks Road early Thursday's afternoon, when EMS 3 caught fire at its station at
5305 Six Forks Road
. The paramedic ambulance had just returned from a call a couple minutes earlier. The two Wake County EMS members found their ambulance in flames after hearing noises coming from the apparatus bay. They evacuated the building safely.
By the time Engine 9 arrived, the engine compartment was fully-involved and the bay ceiling was also burning. The engine caught its own hydrant across the street. Engine 4 was second due, and assisted with the water supply. Within minutes, four engines, two ladders, and Battalion 1 were on scene. Other EMS resources and EMS command staff were quickly on scene as well. The fire was quickly contained, though extensive overhaul was required on the roof. See scene photos from Mike Legeros.
The call was dispatched at 12:42 p.m. and controlled at 12:58 p.m. Six Forks Road was closed in both directions for over an hour. Fire investigators determined the origin of the fire as the engine compartment of the ambulance, caused by unspecified mechanical problem. EMS personnel removed computers, supplies, and other materials from the living area of the station. The facility is closed, though EMS 3 was soon back in service with a spare unit. Both it and the second unit assigned to the station have been relocated to alternate locations.
The loss of the 2010 Chevrolet McCoy-Miller ambulance and its contents are estimated at over $200,000. The damage to the structure has not been estimated yet. The 1962 building formerly served as the Six Forks Fire Department fire station. Read that history. It was opened as an EMS station in 1976. The structure has already been secured and sealed, until further repairs are made.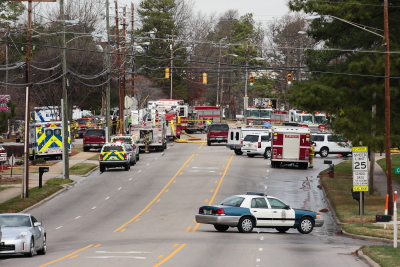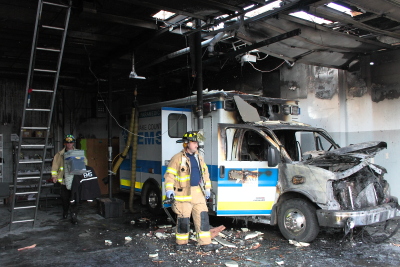 ---
Glad that didn't happen while the crew was sleeping! Glad all are ok. Bet E9 could see it when they left the firehouse
AB - 12/30/11 - 12:14
EMS 3, Welcome to BLFD Station 3. – Phill
Phil Farrell (Email) - 12/31/11 - 18:31
Had a similar situation like this a couple years ago involving a GMC 5500 Medium Duty Fire Truck. We were fortunate enough to catch ours before the Station was affected. Kussmaul system was wired wrong at the manufacturer and caused the entire electrical system and wiring harness to melt and go up in flames….
Chris - 12/31/11 - 19:11