04/18/12 302 W, 1 I - + 6 - 5 American LaFrance Bid Document, 1925
For our third and final vintage bid document, this one's dated January (?) 30, 1925. One Type #75 triple pumper chemical engine and hose motor car for the Raleigh Fire Department. To be built and shipped in about 60 working days after receiving and executing contract. Price $12,500, subject to delivery, test, acceptance, and regular periodic inspection.
The serial number was #5097. The manufacturing date was April 14, 1925. It was one of four Type 75 pumpers delivered in 1922, 1925, and 1926 (two). Like the prior posting about Station 4 and the Gamewell alarm system, this is a scan of a photocopy, obtained years ago from the City Clerk's office. Read this document.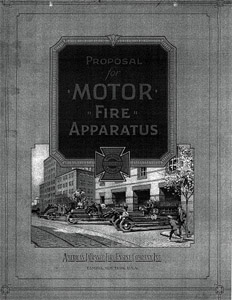 Some of the specs:
Triple combination pumping, chemical, and hose car.
750 GPM, rotary gear pump
40 gallon Champion chemical tank
200 feel of 3/4-inch chemical hose on a reel
Hosebed capacity for 1,200 feet of 2 1/2-inch hose
Pneumatic tires
Locomotive bell and "penetrating siren horn"
Among supplied equipment:
Two lengths of suction hose
One metal suction strainer
Double-swivel hydrant connections, for 2 1/2" inch and "large" sizes
Suction hose coupling wrench
2 1/2-inch spanner wrench
One 28-foot extension ladder
One 14-foot roof ladder with folding hoses
One 11-foot ladder
Natural finish ladders with ends painted black
One 8-foot pike pole, with natural finish and black ends
Two 2 1/2-gallon Boyd plunger-type extinguishers with shut-off.'
Two Alfco Little Giant play pipes with LaFrance shut-off nozzles, with 1 1/8-inch, 1 1/4-inch, and 1-inch tips
One Boston Special play pipe with LaFrance shut-off nozzle, with 1 1/8-inch and 1 1/4-inch tips
One revolving hose nozzle
One set of mounted, reverse couplings
Four cotton hose straps
One Peerless hose clamp
Four hydrant wrenches
Eight pocket spanners
Tool box with standard S.A.E and special wrenches and tools.
Two lanterns.
One heavy pick axe.
One steel crowbar, mounted on running board.
---