06/11/12 232 W, 1 I - + 5 - 3 Let There Be Steam!
On Friday, June 8, the Raleigh Fire Department's old steamer chugged to life for the first time in about three decades. The historic event took place at Fire Station 28 on Forestville Road, where the department's fleet of antique apparatus is stored. The 1905 American LaFrance Metropolitan steam engine first underwent a hydrostatic pressure test on the boiler. Passing that benchmark, the crew of Raleigh and Charlotte firefighters (and local steam engine enthusiasts) then began firing the boiler.
Paper served as kindling for wood, which served as kindling for the coal. Slowly, steadily, the boiler pressure was raised until sufficient steam was available to power the pump. Drafting water from a drop tank (borrowed from nearby New Hope Fire Department), the old engine successfully supplied a deluge gun, which sprayed the station's north lawn. They soon swapped the fog nozzle for a set of straight tips, for further reach.
The steamer is being prepared for an appearance on Saturday, June 16, at the Raleigh Fire Department Centennial Celebration in downtown Raleigh. It'll be drawn by horses in the parade, which starts at 10:00 a.m. And it'll be fired and pumping started at noon. See more event information at www.RFD100.com. For more on the steamer, see photos from Friday by Mike Legeros (shown below) and Lee Wilson, or watch a short video below.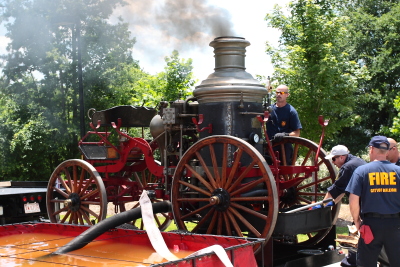 ---