02/17/13 229 W, 2 I - + 4 - 0 Raleigh Fire Department Recognizes Promotions
On Friday night in a ceremony at the City Council Chambers, the Raleigh Fire Department honored twenty-seven recently promoted members. They recognized the achievements of individuals who obtained appointment or promotion through a competitive process over the last six months. The event, which was originally scheduled in January but delayed due to weather, opened with a presentation of colors by the Raleigh Fire Department Honor Guard and remarks by Fire Chief John McGrath.
Recognized were Asst. Chief Garry Spain; Division Chief Ronny Mizell; Battalion Chiefs Duffy Deyo, Rob Mitchell, Brian Sherrill, Ian Toms; Captains Ben Averette, Doug Campbell, Daniel Gardner, Preston Gaster, Phil Morgan, Nick Murray, Patrick Overton, John Rehbock, Randall Scott, Terrent Wiggins, Alan Wortham; and Lieutenants Michael Barnes, Clinton Earp, Leonard Epps, Adam Ferguson, Maria Peterson, Mark Mitro, John Rasor, Justin Rose, Matthew Taylor, and Brian Winn.
Note a couple second-generation firefighters in there: Murray, son of retired Capt. Mike Murray; Wortham, son of retired Lt. Wayne Wortham. Plus some other familiar names from the fire department's family. A reception was held at Fire Station 1 afterward. A Wake & District Public Safety Pipes and Drums piper led a procession from City Hall. See more photos from Mike Legeros. Congratulations to all. You are the future. Treat it well.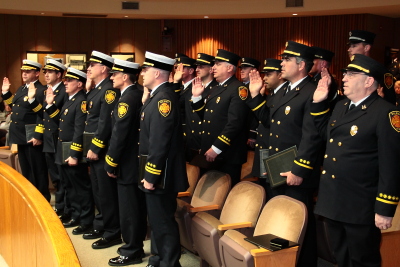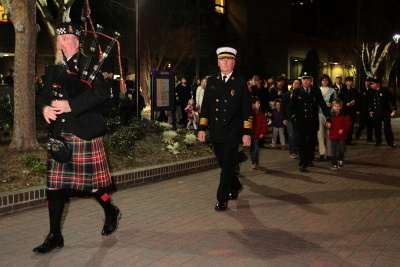 ---