03/02/13 123 W, 1 I - + 3 - 4 Class A versus "Classy"
The unusual tropical creature on the right (
photographer eccentricus
) was recently spotted in Zebulon. Displaying unusually bright plumage, the camera-wielding character was photographed by renowned nature photographer Lee Wilson. (He also sometimes takes pictures of trains.) The creature's bright colors (which double as a safety vest in traffic!) were sighted at the town's community center on Wednesday night, where retiring Zebulon Fire Chief Sidney Perry was honored. (Now there's a dedication to service, with 44+ years as a ZFD member, and Fire Chief since 1980!) His son and Asst. Chief Chris Perry took charge of the department on March 1. Congratulations both.
See more photos
(and watch for still more photos from Mike Legeros, later).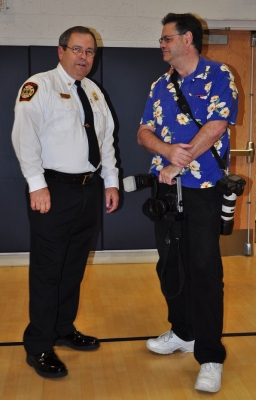 ---