04/29/13 179 W, 1 I - + 3 - 2 Funeral Arrangements For Burke County Paramedic/Firefighter Joey Autrey
As reported last week by FireNews.net, Burke County paramedic and firefighter Joseph W. "Joey" Autrey, 38, passed away at Wake Forest Baptist Medical Center on Friday, April 26. He had been hospitalized on April 4, after experiencing chest pains while operating an ambulance during a call. He suffered an aortic aneurism, which resulted in severe heart damage. On Saturday, firefighters, police, and paramedics paid their respects as his body was brought home by a procession of emergency vehicles.
Autrey was a paramedic with Burke County Emergency Services. He was also a Lieutenant with Lovelady Fire and Rescue, and a member of Icard Fire and Rescue and Salem Fire and Rescue. He had been involved with emergency services for twenty-two years. Read his obituary.
Funeral services will be held at 3:00 p.m. Wednesday, May 1, at Burkemont Baptist Church, 4668 Burkemont Rd., Morganton. Burial will follow in the church cemetery. The family will receive friends Tuesday evening from 5:00 p.m. until 8:00 p.m. at the church.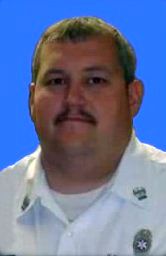 ---