05/15/13 221 W, 1 I - + 4 - 5 UPDATED: Fallen Firefighters Research Documents
May 15
Update. Added another dozen-plus death certificates, from 1978 and 1979. And redacted social security numbers where present in the documents. Also updated the database with fallen firefighters from 2011 and 2012. Also added as data and narrative details throughout the database. Notable are added burial dates and locations. Also added a PDF version of the database, for alternate/easier format for reading. (Might alter the web page version of the database in the future. It's a little slow to load.) Watch this space for some stats about the data therein.
April 30
Specifically, digital scans of death certificates newly uploaded, of our state's fallen firefighters from 1911 to 1977. Eighty-seven of the things, copied from microfilm or online databases at Olivia Raney Local History Library in Raleigh. They were compiled beginning some eight years ago, to assist the North Carolina Fallen Firefighters Foundation with their historical records. The documents offer a surprising wealth of information, including vital statistics, family information, and burial location. Occupations are noted, as are causes of death. The latter vary in their levels of detail. Some are simple medical notes, others describe the accident or situation that caused the death. They've been stored in a single web folder, and are linked from my fallen firefighters history page.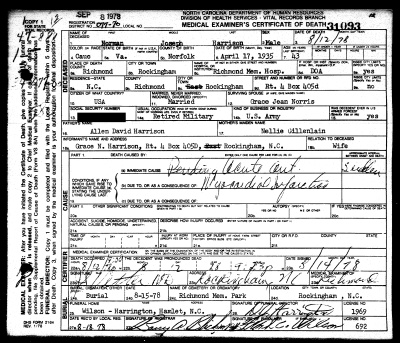 ---