05/11/13 248 W, 2 I - + 4 - 5 UPDATED: Winston-Salem Steamer History, Centennial Activities This Weekend
May 11
After this weekend, the steam engine will be displayed for a number of weeks at the Old Salem visitors center, which is located on Salem Avenue. The steamer will be displayed indoors, in the main hall. Have heard it's in pristine condition. The towns of Winston and Salem operated a number of steam engines in their day. Read more about the history of the state's steamers, which numbered over forty:
Winston
1882 LaFrance (#39), fourth-size
1893 LaFrance (#252), third-size
1903 LaFrance (#487), third-size, also operated by Winston-Salem Fire Department, after towns merged in 1913. Still in service in 1917.
Salem
1886 Button (#190), fifth-size. Was a reserve unit by 1907. Still on roster in 1912.

1905 LaFrance (#512), fourth-size. Still on the roster in 1912.
Here are a couple photos from Digital Forsyth, top showing Salem's Button steamer: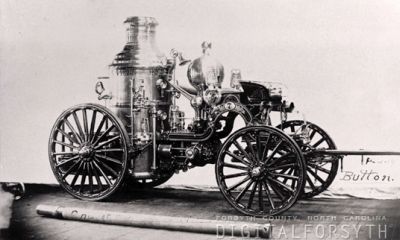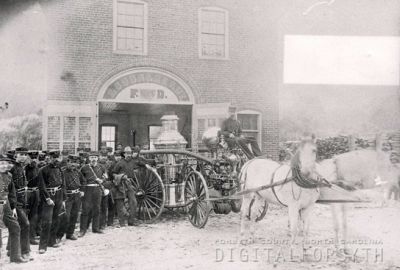 May 8
For those in the central Piedmont this weekend (or inclined to travel in that direction), the city of Winston-Salem has a number of centennial events planned this week. The fire department will have some displays and participation, including:
Friday, May 10
Fire department display
619 Trade Street, Winston-Salem
Fire department display, with artifacts and their 1924 American LaFrance pumper
5:00 p.m. to 10:00 p.m.
Saturday, May 11
Winston-Salem Centennial Parade
Fire department will participate with 1901 1905 American LaFrance steamer, 1924 American LaFrance pumper, and two brand new pieces.
Route is Old Salem to Trade Street to Old Salem.
Parade starts at 2:00 p.m.
More centennial celebration information.
---