05/09/13 136 W, 1 I - + 4 - 2 Free e-Book - Raleigh Fire Department Newspaper Articles: 1910-1913
Here's the long-awaited (ha) fifth and final volume of historical newspaper articles about the Raleigh Fire Department. The e-book collects
News & Observer
and
Raleigh Times
stories from 1910 to 1913. That's the period that the career fire department was formed. (Did the research years ago, just forgot to compile the things.) The e-book is PDF format, 138 pages long, and, get this, 65 megs in size. Sorry about that giant file size.
Download the e-book
(
very large
PDF).
More information about these e-books
. There are five volumes, each covering a decade or slightly more of the fire department's history. A collected version of all five volumes is coming soon, to be available for sale as a hardcover, on-demand book. What is niche audience?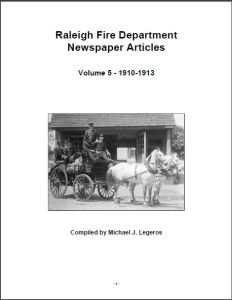 ---