05/11/13 162 W, 1 I - + 7 - 1 Gone Too Soon (Book Page)
Here's another note about the Raleigh Fire Department centennial history book, this time about a page that's caused a little bit of confusion. Called Gone Too Soon, it displays portraits and names of thirty-three fire department members who have died off-duty since 1912. They were still active members, and ranged in ranks from Firefighter to Fire Chief. That's why they're not pictured in the Retiree pages.
The Gone Too Soon page is opposite the Fallen Firefighters page, which tells about the three members who died in the line of duty. Clear as mud? We played with different page titles, such as the literal but inelegant Died Off-Duty. To help understanding, a text sidebar was added at the of the retiree pages, with this very explanation. Hopefully it helps, at least some. Read more production notes about the book. See the Raleigh Fire Department Centennial Roll Call (PDF). Rest in peace, all.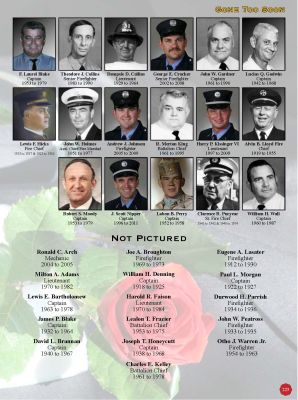 ---