06/03/13 181 W, 3 I - + 2 - 1 Evac 1 in Action at Airport
Here's Evac 1 in action at Raleigh-Durham International Airport on Friday morning, part of a National Disaster Management System (NDMS) drill. The 2009 International/Sartin mobile ambulance bus is operated by Wake County EMS. The event simulated the arrival of disaster victims via military transport. The patients were transferred to transport vehicles, then to a nearby an assessment and treatment area at a hangar. See more photos by Mike Legeros. See also photos from the North Carolina National Guard.
The participating agencies were Wake County EMS, Eastern Wake EMS, Cary EMS, Apex EMS, Durham County EMS, Raleigh-Durham Airport Emergency Services, Cary FD, Morrisville FD, Raleigh FD, Wake County Fire Services, Raleigh Emergency Management, Wake County Emergency Management, Wake County Human Services, NC Baptist Men and Women Disaster Relief Ministry, State Medical Assistance Teams from WakeMed, Duke, and UNC hospitals, Triangle Red Cross, NC Air National Guard, NC Emergency Management, NC Office of EMS, and US Department of Veterans Affairs.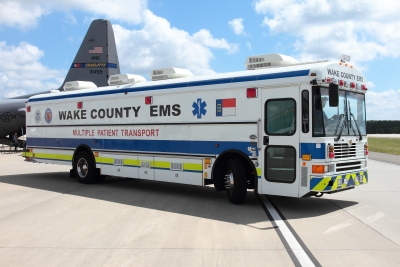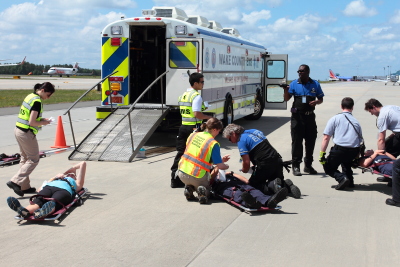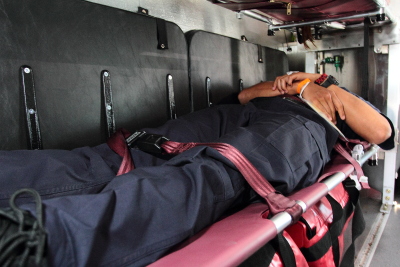 ---