10/03/13 226 W, 2 I - + 4 - 2 Forest Hill Fire Department - November 1957
From the December 1957 issue of Hose & Nozzle magazine comes this vintage graphic of the Forest Hill Fire Department outside Winston-Salem in Forysth County. The picture appears on the cover of their annual report, of which was reprinted in the magazine. View that document (PDF). The department's new fire station at 4619 N. Cherry Street is shown, along with three vehicles, including a home-built ladder truck (!). (We've seen some of those "short ladders" around the state. Beaufort Fire Department had one. See prior posting.) Also note the ambulance, which was an atypical piece of equipment for rural departments back in those days. (Well, was atypical in these parts, where funeral homes handled such duties. Does the statement hold water statewide? Will think on that.) Click to enlarge:



As for FHFD, they were organized in 1953 under the guidance of the Forest Hill Civic Club. They operated in Forsyth County until 2007, when they relocated to Stokes County. They ceased operations within a year. Their old station on Cherry Street is still standing, as Google Street View shows. If memory serves, it's presently owned by someone (or some organization) that owns a number of antique fire engines. Some years ago, when passing through there, said trucks were stored inside. Perhaps readers know more.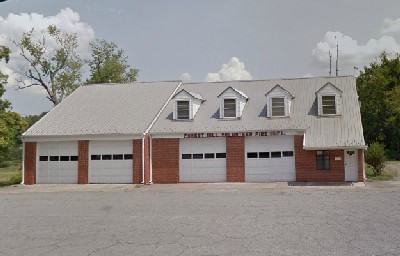 ---