01/26/14 162 W, 1 I - + 3 - 2 What if Structure Fires were Fought Like Plane Crashes?
FireNews.net posted this video in their Twitter feed, as a response to the question their Editor-in-Chief was recently asked "Why don't we attack structures like ARFF units attack aircraft?" Here's what that might look like, a Chicago Fire Department training exercise from 2010, which airport apparatus attacking heavy fire in an apartment building. The videographer is the great Larry Shapiro. There are some 70+ comments discussing same on the YouTube page.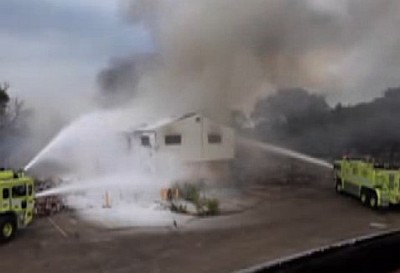 Does get a person thinking, such as for extreme situations. Could a couple of these puppies help in, say, Detroit with "abandoned" single-family dwelling fires. Conceptually, it's really no different than, say, early rural firefighting. With no breathing gear and minimally advanced tactics, crews could at least attack a structure from the outside and prevent spread to exposures. Watch the video and listen to those diesel engines roar!

---
Well we could, if we wanted all engines to be 5 times bigger; my thinking here is an airport appliance is so large because it carries so much water/ARFF, and a regular engine isn't as big because it doesn't need to carry that much fluid. But if you apply this technique on a regular basis aren't you going to be using exponentially more water on every structure fire (and therefore have the pressure issues that come with it)?

Ignoring that small issue for a minute, what's the difference between this and putting something like a commercial sprinkler head (or something else that can spray water in multiple directions at once) on the end of a ladder (or other type of boom) and just poking the tip of the ladder straight through the nearest window?
Paul - 01/26/14 - 19:16