04/06/14 215 W, 2 I - + 11 - 2 UPDATED: Vintage Virginia Red Car in Raleigh
April 6
Reader Andrew Watters shares this photo of the department's current EMS response vehicle. There are several Hampden-Sydney College alumni that work for fire departments in Wake County, including Watters. The department is comprised almost entirely of students from the college. The average age of their membership is 20 to 21.
The department has an interesting history. On March 29, 1957, the Farmville FD was dispatched to a fire at the college. McIlwaine Hall was ablaze, a former academic building and assembly hall and now used for storage. The students had a great dislike for McIlwaine and tried their hardest to hamper the firefighter.
They repeatedly flushed toilets across campus and stood on fire hoses, to impede the water pressure. The building burned to the ground. The following day, the Fire Chief declared that their department would no longer respond to the college. The students realized the gravity of their actions, and formed their own fire brigade, which became the Hampden-Sydney FD.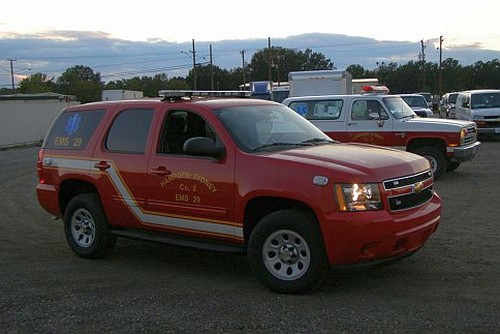 March 30
From a reader, this vintage "red car" (or more likely, first-responder vehicle) was seen at a house on South Boylan Avenue last week. From Hampden Syndey, VA, it appears. Thanks, Adam!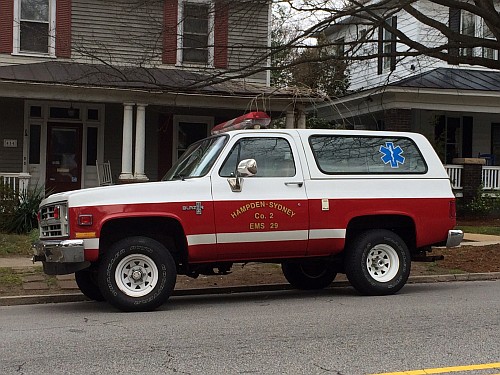 ---
I have seen that truck sitting there before. Probably a month ago.
Doppler - 03/31/14 - 18:14
This is the old EMS First Responder Vehicle (EMS 2-9) for Hampden-Sydney Volunteer Fire Department in Hampden-Sydney, Virginia. We now run a newer model Chevy Tahoe First responder vehicle and average between 100-200 EMS calls annually. The area we serve is mostly rural but our membership is mostly made up of students from Hampden-Sydney College. Mike if you want I can send a picture of our new one just to continue the story if you're interested.
Watters - 04/01/14 - 12:28