04/10/14 127 W, 1 I - + 8 - 3 Technical Support Unit 1
The Raleigh Fire Department has placed its new rescue pumpers in service. The 2014 Pierce Arrow XT engines were activated on April 4 (Squad 15) and April 8 (Squad 14). Also, the reserve rescue at Station 14 has been designated Technical Support Unit 1.
The 2007 Pierce Enforcer, a sister to the truck operated by Rescue 1, is both a reserve unit and a second piece of equipment for Squad 14. (What does it carry? Readers, can you advise?) There's also a second unit staffed by Squad 15, a tractor-drawn trench rescue unit at Station 15.
See photos of the new squads at the station and in action at Lee Wilson's Flickr site. Updates also forthcoming to my photo site, which links to Lee's photos on a per-set basis.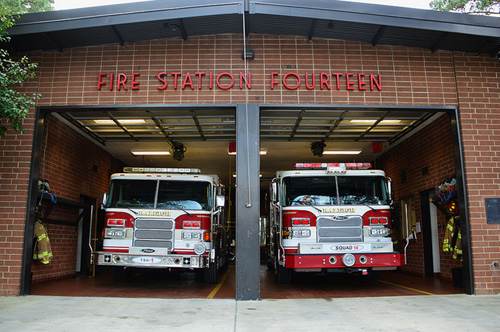 ---
What does it respond to? I thought I saw it go on a run on Tuesday afternoon, although at the time I assumed that it was Rescue responding from 14's quarters.
Eric - 04/10/14 - 14:05
Mike or anyone,

Have you heard anything through the grapevine as to what these units are used for?
WATSON - 04/15/14 - 22:31
Eric. Someone was driving TSU-1 around last Tues afternoon (8th), but it wasn't in service or on any calls.
lee - 04/16/14 - 00:54