04/26/14 228 W, 3 I - + 10 - 6 UPDATED: Wake Forest House Fire - Fully Involved on Arrival
April 26
Reader Matthew Bass shares a couple photos from this fire. Talk about before and after! Heck of a stop by firefighters. This Firehouse.com photos story tells more, and shows the closed door that helped halt the spread of the fire. Units on scene included Wake Forest E1, E3, E5, L1, Rolesville E153, T15, EMS 64, EMS 10, D3. Readers are welcome to add more details.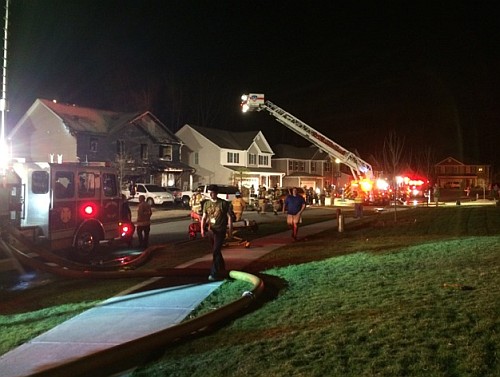 April 18
Even with the proliferation of camera phones and reader photos on news sites, it's reasonably rare that we see an arrival photo as dramatic as this image posted by FireNews.net. That's from Saturday's house fire in Wake Forest.
The photo is by Teresa Martens and appears in a story submitted by Wake Forest News Editor Steve Rhode. Arriving units found the front of the structure fully-involved at 417 Cottesbrook Drive. The two-story, single-family dwelling measured 2,485 square-feet and was built in 2010.
Read more about the fire from FireNews.net, including the list of Wake Forest and Rolesville units that responded. The Wake Forest News has also posted a trio of stories about the fire, the family's praise for the firefighters, and community efforst to raise money for the family: April 13 #1, April 13 #2, and April 16.



Teresa Martins/FireNews.net photo
---