04/23/14 190 W, 2 I - + 7 - 10 Transformer in Disguise? The Wasserwerfer 10000
That's German for Water Cannon 10000, a futurist-looking police vehicle built by Rosenbauer in Austria. This Car and Driver blog post from 2009 featured the thing, but I saw this Daily Mail story today. The truck's purpose-built for riot response and is based on the Mercedes-Benz Actros 3341 all-wheel-drive truck chassis. Carries 10,000 liters of water (2,642 gallons). Weighs thirty-one tons. Powered by V6 turbo-diesel engine.
This translated Wikipedia page tells more. Climate-controlled interior, a first (?) for such units. Carries up to five people. Two forward nozzles and one rear. Can spray water up to 65 meters (213 feet) forward and 50 meters (164 feet back). Proportioning systems can add agents to the water, such as tear gas. Surveillance cameras record all sides.
Google for more images, both of this truck and numerous other European riot trucks of similar design. Such vehicles have been used for decades. (In the United States they're pretty rare, I think. Though you'll find the odd unit on the web, such as this ex-USAF Oshkosh crash truck used by NYPD. Scroll down this page to see.)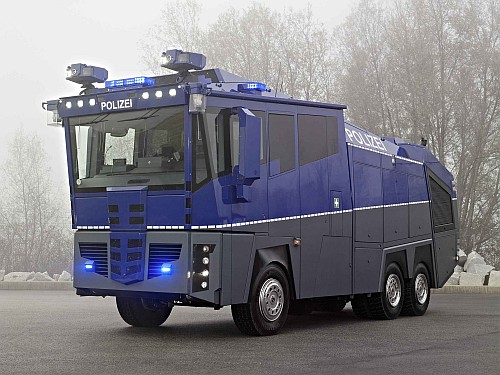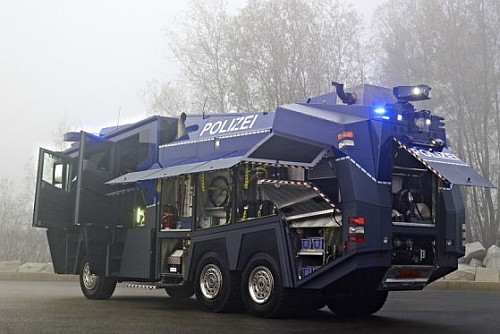 ---