04/24/14 300 W, 1 I - + 8 - 8 Raleigh Police Memorial Events This Weekend
From press releases.
Friday Night - Memorial Dedication
A blue hue will be cast over Downtown Friday in honor of the dedication of the Raleigh Police Memorial. The Raleigh Convention Center's Cree Shimmer Wall and the City Plaza towers lights will be blue to honor the sacrifices of the eight officers who lost their lives serving the City of Raleigh.
The Raleigh Police Memorial Foundation Department will make good on a long-standing promise made by department veterans to honor and keep the memory sacred of the officers who made the ultimate sacrifice serving Raleigh. The promise will be fulfilled in the dedication of the Raleigh Police Memorial, 6 p.m., April 25.
The ceremony will be held at the entrance to the Avery C. Upchurch Government Complex at 222 W. Hargett St., where the memorial will be unveiled.
Saturday Morning - Run For Our Heroes
Then on Saturday, April 26, the Raleigh Police Memorial Foundation's Sixth Annual Run for Our Heroes 5K race will be held in downtown Raleigh.
The race starts at 9:00 a.m. near the Raleigh Municipal Building on Hargett Street, proceeds up Salisbury Street to Lenoir Street, down Fayetteville Street around the State Capitol, to Franklin Street up Blount Street, and then back into the Downtown area where the race finishes in front of the Police Memorial.
A ceremonial wreath-laying to honor the sacrifice and lives of the fallen officers will be held at 8:30 a.m. The 5K race/walk will follow. At 10:00 a.m., a children's 100-yard dash will be held at Nash Square. Following the race, a free social for event participants will be held at Napper Tandy's Restaurant on Glenwood Avenue.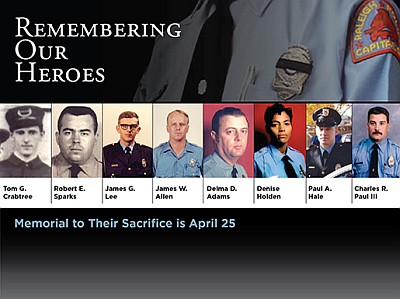 ---