04/27/14 179 W, 1 I - + 12 - 5 Scotts Hill Fire Station Under Construction in Pender County
This WECT story reports that Pender EMS and Fire is building a new station in Scotts Hill. The $800,000 facility should be completed in about four months, and will house two engines and a brush truck. The area is presently protected by New Hanover County Fire Department, a contract adopted in June 2013.
This blog post covered that and other events that led to the creation of Pender EMS and Fire. Scotts Hill was once protected by its own fire department. They incorporated in 1977 and operated until around 1992. Read that prior posting.
Residents have wanted a fire station for years, and the Hampstead Fire Department had been pursing the project in recent years. (They were one of the departments that merged to create Pender EMS and Fire last year.)
The news story also notes that Pender EMS and Fire are planning another new station of similar size on Highway 421. The below photo is from the department's Facebook page. Thanks Greg, for passing along this news!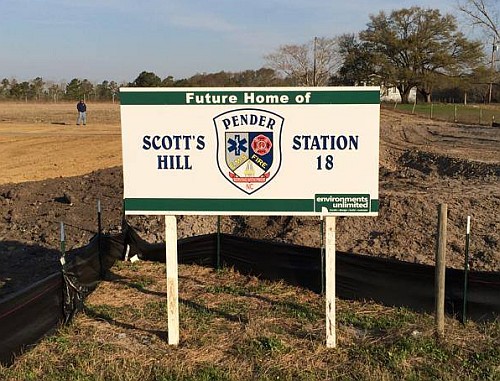 ---