02/01/07 99 W, 1 I - + 12 - 10 Books
Answering a reader question, Mike's made two books on local fire departments.
Raleigh and Wake County Firefighting
and
Raleigh and Wake County Firefighting, Volume II
. They were published in 2003 and 2004. They each have 128 pages, about 210 photographs, and are priced at $19.99. They are available in local bookstores. Volume II is also available through the publisher,
Arcadia Publishing
. The first volume is out of print, so the store copies are the remaining copies. That is, unless 600 people want to pool their money and another print run can be ordered.
More information about the books
.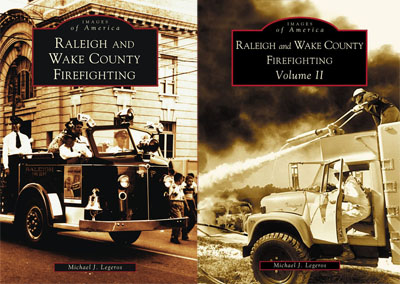 ---
Just wondering if you have plans for a Volume 3?
ewfd200 - 02/04/07 - 12:15
Negative, there are no plans at this time for a Volume 3. My only present print project is a book of historical fire department photographs from around the state. It's a multi-year and possibly multi-volume project.
Legeros - 02/04/07 - 12:18