06/15/14 300 W, 2 I - + 8 - 1 David Dillon Named American Legion's NC Firefighter of Year
Apex Fire Department Deputy Fire Marshal David Dillon was honored this week by the American Legion Department of North Carolina. In a ceremony in Raleigh at their annual convention on Friday, he received the 2014 North Carolina Firefighter of the Year Award.
There are over 300 American Legion posts in North Carolina, and Dillon was selected to receive the award by the Legion's Law and Order Committee. He was nominated by Post 124 of Apex.
The ceremony was attended by Dillon's family and friends, the City manager, two Council Members, and fire, police, and EMS chiefs from the town.
They spoke about his twenty-five years of service, including his current positions of Deputy Fire Marshal in Apex, Assistant Fire Chief at Durham Highway Fire Department, and Chair of the Safe Kids Coalition.
Dillon also addressed the nearly 1,000 legionnaires to thank them for the award. He's pictured below with State Commander Patricia Harris, and with his wife Jackie.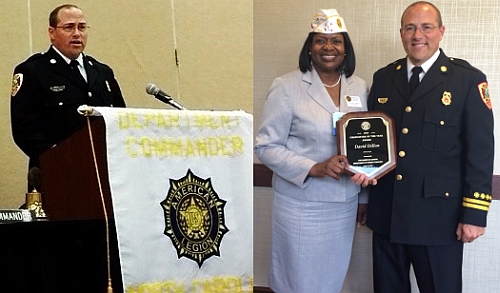 David Dillon has worked for the Apex Fire Department for eight years, as the town's first Deputy Fire Marshal. He's previous worked as a Fire Inspector in Smithfield and Cary.
He's been a member of Durham Highway Fire Department for nineteen years, first starting in 1990. He presently holds the rank of Assistant Chief.
Dillon comes from a family of coal miners and was raised in Pittsburgh, PA. He graduated from Broughton High School in Raleigh, attended North Carolina State University, and has studied at the National Fire Academy. He holds numerous certifications including Advanced North Carolina Firefighter, Level III Fire Inspector, Certified Fire Investigator and Associate Emergency Manager.
He's married to Jackie Foldes of Garner and has a young son Ashton.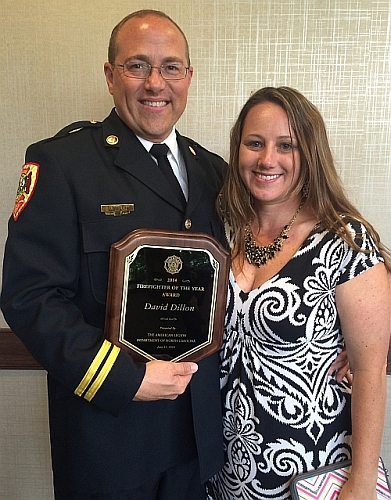 ---
Congratulations David!
Bob Edmundson - 06/16/14 - 18:49