08/09/14 266 W, 2 I - + 8 - 3 The World is Watching Your Department - Slides Posted!
At the South Atlantic Fire Rescue Expo in Raleigh last month, Jeff Hammerstein and Mike Legeros presented a ninety-minute workshop on social media, traditional media, and emergency services. It was titled The World is Watching Your Department - Who Will Tell Your Story, You or Them? There's was a two-part talk, opening with Chief Hammerstein. He's the Community Outreach Chief and Public Information Officer for Wake County EMS.
He had a four main points. First, acknowledging that news reporters and social media photographers make many responders upset. Second, acknowledging the reasons why these people and their behaviors upset behaviors. Third, convincing the audience (some forty attendees) that "we've had it wrong the whole time." Fourth and last, demonstrating how to turn any exposure into a powerful resource.
One such resource for Wake County EMS is public safety blogger (and more) Mike Legeros. He took the floor, and also expanded on four main points. First, he introduced himself, what he does for public safety, and his motives therein. Second, he talked about his fire and incident photography. Third, he talked about his "information sharing" via social media tools and technologies. Fourth, he wrapped with some lessons learned on the whole thing.
Digital versions of their slides have been posted to www.legeros.com/slides. Here's the direct link to the PDF document (5.8MB). Or see photos from their talk. Quite a few "caption this" opportunities there!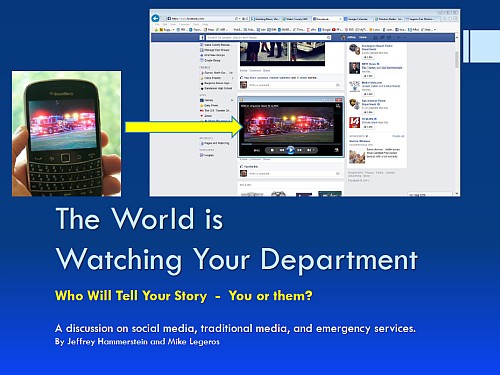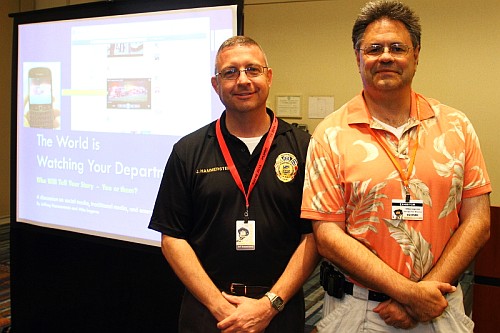 ---
I really enjoyed looking through your presentation. You both did a great job!
Jason Thomson (Email) (Web Site) - 08/09/14 - 17:28