10/26/14 801 W, 3 I - + 6 - 6 Presenting the Hall of Flame Fire Museum
Had the pleasure of visiting the
Hall of Flame Fire Museum
in Phoenix the other week. First time both there and to the southwestern state. Greatest fire museum ever. Book a week in that city ASAP! Now with that out of the way, let me tell you about the museum, its operations, and its collection. Their story begins in Lake Geneva, WI. That's where Olive Getz bought a vintage fire engine as a Christmas present for her husband George. in 1955.
They loved the rig and developed an interest in fire engines and fire engines. George began to educate himself on the subject, and found that there were few fire museums and few serious collectors in the states. They began collecting more and by 1960, he had about a dozen hand engines, hose carts, ladder wagons, and motor trucks in storage sheds on their estate in Lake Geneva.
In 1961, he founded the Hall of Flame and organized the National Historic Fire Foundation as a means to sponsor their operations. The Hall of Flame had three goals, which has remained the same over the decades: collection, preservation, and display of historic fire apparatus, fire safety and education programs for the public (especially children), and recognizing American firefighters that have died in the line of duty.
The first museum location was a small, former auto showroom in Lake Geneva. It opened in 1963. Four years later, the museum moved to a 10,000 square-foot building in Kenosha. In 1970, it closed as prepared for relocation to Arizona. George and Olive moved to Scottsdale, and the museum secured a site through the City of Phoenix at Papago Park.
While work on a new museum building was underway, a small part of the collection was displayed in a storefront in Old Town Scottsdale. That's not far from the office of the Globe Corporation, which the Getz family owned and operated. (George Getz died in 1992. His grandson, also named George Getz, took over as President of the foundation. Other Getz family members continue to play key roles in the foundation's operation.)
In 1974, the Hall of Flame reopened in a 12,000 square-foot building. They had some twenty pieces on display. From 1982 to 1984, the building was expanded to 42,000 square-feet, including 30,000 square-feet of galleries. (There are five galleries.) Plus a restoration shop and a small library. Today, their square footage has passed 66,000 square feet. They have two buildings: the main museum and its galleries, and a 20,000 square-foot warehouse behind the main building.
Today, they have over 130 wheeled pieces, and over 10,000 (whoa!) small artifacts, including firefighting tools and extinguishers, helmets and uniforms, scale models, fire marks, and more. Plus a library of over 6,000 volumes and over 50,000 photos, prints, and lithographs.
The museum has both paid and volunteer staff. Had the pleasure of talking to some, during my two-day visit. (Spent three hours there over two visits.) They're a great group, as dedicated and knowledgeable as you could ask for. Also had the pleasure of observing their fire education program for children. They take kids to their warehouse, and let them put their hands on hose and spray water. Or use a real bucket brigade.
Inside the museum, the tour groups are taken to the Hall of Heroes, where they're told a children's story that teaches fire safety. There's also a vintage fire engine for them to climb upon, an American LaFrance 700 Series from Miami. Then there's a separate children's area, where they're shown a fire safety video, among other activities.
Mr. Blogger attempted to photograph every rig at the museum, and from a couple sides. Was largely successfully. See those photos, which include a visit to the warehouse. Thank you to the Hall of Flame staff for allowing access. (See more Legeros fire museum photos. Also saw some old fire trucks in Tucson, at the Pima Air & Space Museum. Trip photos are being posted here. More coming. Titan Missile Museum. Vintage vehicles in Jerome, AZ.)
Look closely at the picture file names for make and model of depicted rigs. That information is pulled from the Hall of Flame web site, and the pages about their collections. Every rig is listed and with photos and background!
There's also a neat book about the museum, The Hall of Flame Museum of Firefighting by Dr. Peter M. Molloy, and published by M.T. Publishing in in 2012. The book's the source for the historical information above. It's a 200-page book with pictures and histories of their rigs, plus historical information about the fire service and firefighting.
The Hall of Flame is located at 6101 E. Van Buren Street in Phoenix. They're open every day of the week. Their web site is www.hallofflame.org.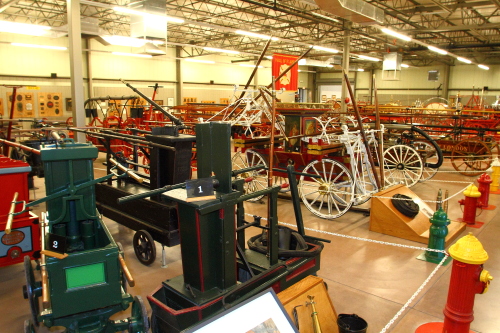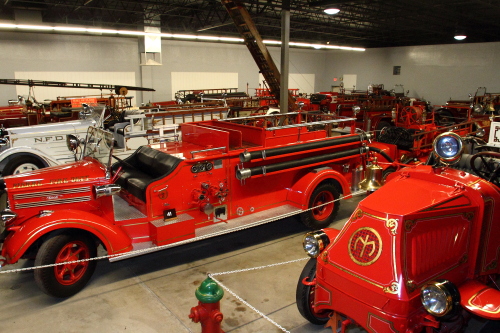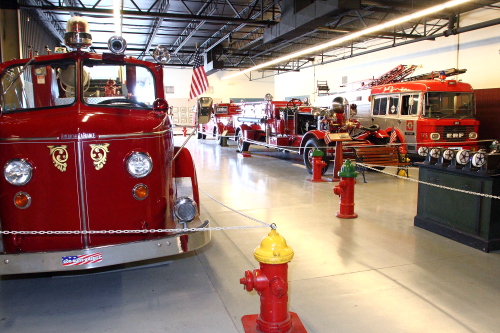 ---