11/16/14 483 W, 1 I - + 9 - 7 Raleigh Fire Department "Outside Calls" in 1962
Back in the day, the Raleigh Fire Department recorded every emergency call (and requests for service) in an oversized ledger book. Say eighteen by twelve inches in size. There were columns across two pages, with fields for such information as Date, Time(s), How Alarm was Received, Location, Owner of Building, Occupant of Building, Type of Building, Type of Fire, Suppression Equipment Used, and Value and Loss of Building and Contents.
There are ledger books were used from at least the mid 1920s to the mid 1980s. The information was likely recorded by either the Fire Chief or Assistant Fire Chief. There were monthly and annual tallies of data, as notations indicate in margins. By the 1960s, a sheet of paper was inserted that listed the fire deaths of that year. (The carefully formatted information, or summaries therein, were probably or certainly transmitted to the State Department of Insurance.)
In the 1962 record book, all "outside calls" were recorded with a red pencil. This certainly helped more readily locate these entries. Why purpose would that data serve? Could have been anything, from analyzing the amount of mutual aid to considerations for future service needs for future annexations of "fringe areas."
Here's a transcription of the entries from that year. They present a nifty snapshot of their time:
Jan 29, 1962 - Westinghouse (fringe area) - Paint duct - E4, E7, T7, T1
Feb 8 - 2700 Louisburg Road (fringe area) - Abandoned house - E4, E7, T7
Feb 13 - Wayside Furniture Co., US 1 S. - Aid Fairgrounds FD - E8, Tanker 8
Mar 29 - Lake Johnson, Avent Ferry Road - Woods fire - E8, Tanker 8
Apr 5 - Westinghouse, US 1 N. - Wood in joint expansion - E7
Apr 23 - Asbury [?] - House fire - E8, Tanker 8
May 15 - Electric Storage & Battery Co., 2510 Louisburg Road - Tar vat - E4
May 23 - Old Milburnie Road - Raleigh Beach - Man fell in water - R1
May 26 - Service station, Cary "hi-way" - Aid to Fairgrounds FD - E8, Tanker 8
May 27 - Holly Springs Road, Apex - Drowning - R2
Jun 10 - Holiday Inn, US 1 N. - Electric motor - Car 2, Car 3
Oct 17 - State Fairgrounds - Auto show - Car fire - E5
Oct 19 - State Fairgrounds - Industrial Building - Grass fire - E1, E5
Oct 28 - Cary - Heart victim, deceased - R1
Nov 30 - 4736 Wedgewood - Grass fire - E6
Dec 7 - Sunnybrook Road - Filter plant - Grass fire - E3
Also recorded were more than a couple instances of city fire companies filling in at Six Forks Fire Department, such as Engine 4 on November 30, 1962. Wonder if they also assisted in that capacity with Fairgrounds or New Hope? (Those three being the sum of "suburban" fire departments that served the city at the time.)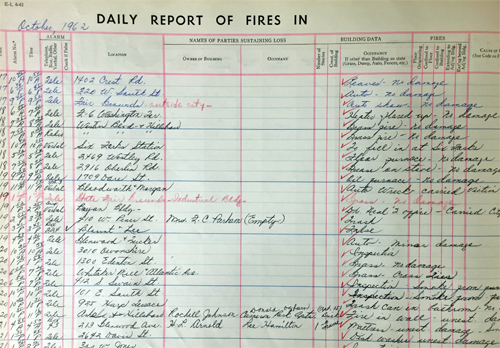 ---