Line of Duty Death, 1956
On March 10, 1956, Driver Vernon J. Smith became the first city firefighter to die in the line of duty.
He died of injuries sustained on November 14, 1952.
His portrait: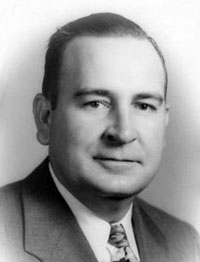 Courtesy Harold Smith
The accident scene: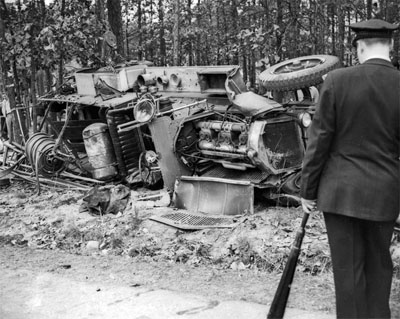 His death announcement was published in the News & Observer: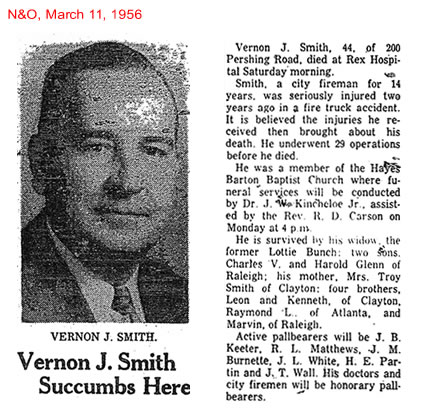 On March 10, 1956, the Raleigh Fire Department suffered its first line-of-duty death when Driver Vernon J. Smith, 44, died at Rex Hospital, succumbing to injuries occurred November 14, 1952 while operating Engine 6. Succumbing at Rex Hospital after 29 operations, he becomes the Raleigh Fire Department's first line-of-duty death. Funeral services were held on March 12 at Hayes Barton Baptist Church, with burial at Montlawn Cemetery the same day. Fire Chief Jack B. Keeter, Assistant Fire Chief R. Lee Matthews, and fire department members James M. Burnette, James T. White, Herbert E. Partin, and Jack T. Wall served as pallbearers. Smith joined the Raleigh Fire Department in 1942.

The accident involved the 1926 American LaFrance reserve engine, which overturned on a sharp curve where Brooks Avenue turns into Lewis Farm Road while returning from a minor fire call at 602 Stacy Street. Captain J T. White was pinned underneath the engine for about 15 minutes until a wrecker arrived and lifted the vehicle off his broken legs. He also sustained back injuries. Driver Vernon J. Smith was the most seriously injured with internal injuries, a compound fracture of his left leg, and a fractured skull. The three firefighters on the tailboard were luckier. J. T. Wall and H. E. Partin were released from Rex Hospital after treatment for shock and laceration. A. R. Woodlief stayed overnight, under observation after being knocked unconscious in the accident. A broken brake lever was blamed for the accident. The City Council immediately approved funding for purchase of a new pumper, so the other 1926 reserve engine could be retired.
---