07/27/07 256 W, 2 I - + 21 - 19 National Fire Academy / National Fallen Firefighters Memorial
Wandered to Emmitsburg, MD, yesterday, curious what the
National Fire Academy
grounds look like. The
exceptionally quaint town
is located about 70 minutes northwest of Baltimore. It's also a stone's throw from Gettysburg, another tiny town. There are mountains nearby, including Raven Rock Mountain, where a
nearby underground complex
commonly called "Site R" is one of the "undisclosed locations" that the Vice President occasionally visits.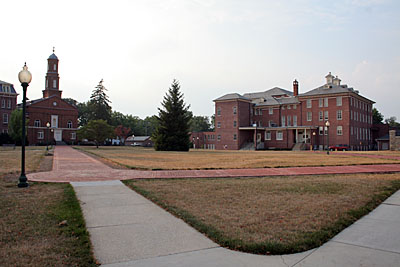 The campus of the National Fire Academy is called the
National Emergency Training Center
.
It's, say, a Meredith College-sized campus, with
several attractive buildings
as well as the National Fallen Firefighters Memorial.
Fallout Shelter signs
are still affixed to the older buildings. There's also a serious-looking, cable-reinforced, Homeland Security-style fence that surrounds the facility. Visitors are required to register.
The grounds are the former campus of
St. Joseph College
. That school was charted in 1905, says the roadside sign, and closed 1973. The National Fire Academy grounds were dedicated in 1979, says a plaque on the school's grounds. Some of these links have more history. In 1981, the
National Fallen Firefighters Monument
was constructed.
The centerpiece of the Memorial is a sculpted bronze Maltese cross atop a 7-foot stone cairn. The Memorial plaza is also shaped as a Maltese cross. Plaques list the names of line-of-duty deaths since 1981. Engraved bricks on the walkway list the individuals, departments, and organizations that have sponsored the Memorial. Other bricks contain short messages chosen by the sponsors.
Photos forthcoming. Here's
the campus map
. Here's
Google's aerial photo
.
---