11/01/07 105 W, 1 I - + 13 - 17 Illustrated Encyclopedia of American Fire Engine Manufacturers
The great Walt McCall has a notable new book, the
Illustrated Encyclopedia of American Fire Engine Manufacturers
. It's big
and
pricey. Hardbound, 304 pages, 1270 photos, 100 smackers. Click above to read more, and/or order direct from publisher.
FSP Books
is also stocking same, as are likely other specialty retailers. Will it be released in less-expense softcover, some day/some year? Unknown, but this blogger would bet dollars to donuts on it. McCall is the author of
American Fire Engines Since 1900
, the "bible of fire apparatus" published in 1976. That one built many a buff.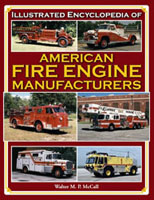 ---
Looking at the cover, the 1958 GM/American caught my eye. Same paint scheme used on the Western Blvd/Fairgrounds 1957 Chev/AMerican and the Six Forks Rd 1956 Ford/American.
DJ (Email) - 11/01/07 - 08:22