11/28/07 122 W, 2 I - + 18 - 15 New Bern's Great Fire of 1922
Saturday is the 85th anniversary of New Bern's great fire of 1922,
this Sun Journal article
notes. Burning a quarter of the city, it displaced 3,200 people and rendered $2.5 million damage. The fire is also the topic of a two-hour lecture and slide show tomorrow at the
New Bern Fireman's Museum
, by historian and author Bill Hand. Information about the fire is also available on the web from the New Bern-Craven County Public Library, in the form of a
54-page PDF document
. Be forewarned, the PDF file takes a little while to load. And here's some
historical information about the New Bern Fire Department
, notably old engine houses as explored by Yours Truly.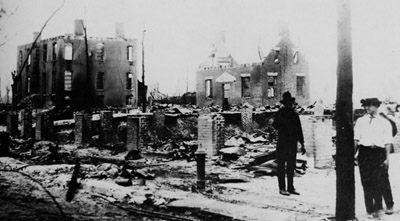 ---
we are looking for any and all information regarding this event. Please post any details that you have
Lori Anne (Email) - 12/09/09 - 17:43