01/07/08 458 W, 1 I - + 19 - 12 Raleigh Mini Pumper Histories
The first mini pumper, then called an "auxiliary truck" or a "squad truck" or simply a "squad," was a Dodge half-ton truck most likely of 1944 model year. Its equipment included a booster pumper, booster reel, water tank, and overhead ladder and suction hose rack. It operated from around the summer of 1944 until being destroyed in an accident with a Greyhound bus on September 12, 1947. The two firefighters operating the unit were both injured.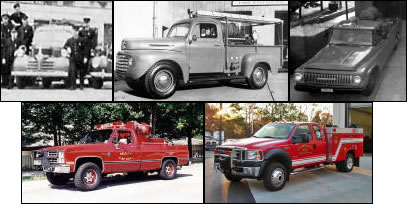 The second squad was a 1948 Ford F3. Purchased in FY48, it also was equipped with a booster pump, booster reel, and water tank. It also had an overhead ladder wrack. The truck was assigned two firefighters, and responded solo to small fires, and was also dispatched to all structure fires.
It was housed at stations 1, 2, 3, 6, and 7 over the years. The squad was still in service into the 1970s. Don't know when it was removed from service, yet. Nor if it was staffed into its final years.
The fire department placed a brush truck in service by March 23, 1982. Called Brush 1, the 1965 International D120 was renamed Brush 3 by May 22, 1985. The light-duty truck had previous served as Foam 5, and as Maintenance 3. The unit was presumably unstaffed. Brush 3 was removed from service by August 18, 1986.
Three Chevrolet Silverado brush trucks were placed in service on August 18, 1986, at Stations 3, 9, and 17. Each was equipped with a 350 GPM pump, 200 gallon water tank, and twin booster reels. They cost $24,000 each. The unstaffed units were named Mini 3, Mini 9, and Mini 17. They were utilized for brush fires, vehicle fires in parking decks, overnight fire watch after structure fires, storm response, off-road EMS response, towing trailers, and other special duties. Mini 17 towed a confined space rescue trailer housed at Station 17 for several years.
On March 14, 1997, one of the three mini-pumpers was destroyed in an accident on Lead Mine Road. On January 25, 2006, a third mini-pumper was again placed in service. The 2005 Ford-F550 truck was equipped with a Reading body and a Slagle pump unit. It was placed in service as Mini 3, though it operated from Station 2 for several months. During that period, the foam truck had been removed from service, and reserve foam was stored on a trailer with other haz-mat supplies at Station 2.
The mini pumpers have been assigned to Stations 3, 4, 9, 17, 23, and 24. Mini 3 has operated from 1986 to present. Mini 4 operated from 2000 to 2004, and from 2007 to present. Mini 9 operated from 1986 to 1997, from 1998 to 2000, and from 2006 to 2007. Mini 17 operated from 1986 to 1998. Mini 23 operated from 2004 to 2006. Mini 24 operated in 2004, and from 2006 to present.
The specific vehicle histories go something like this:
1986 Chevy #1 (shop #001039)
M3 in 1986 > M9 in 2006 > M4 in 2007
1986 Chevy #2 (shop #001040)
M17 in 1986 > M9 in 1998 > M4 in 2000 > M24 in 2004 > M23 in 2004 > M24 in 2006
1986 Chevy #3 (shop #0010__)
M9 in 1986 > Wrecked 1997
2005 Ford
M3 in 2006
---
Looking at the lower left picture of the Chevy reminds me of many of the brush trucks built on p/u trucks. So many of them were WAY overloaded! Made them real interesting to drive, too. Definitely something you did not want to get into much of a hurry with. Seems like most of them had that tell-tale 'squat' in the back-end.
DJ (Email) - 01/08/08 - 09:50
Corrections to the above information. The in-service dates for the three Chevy mini-pumpers were staggered. Mini 17 was placed in service on May 13, 1986. Mini 3 was placed in service on August 18, 1986. Mini 9 was placed in service on April 24, 1987.
Legeros - 01/12/08 - 11:31