01/10/08 107 W, 1 I - + 13 - 12 Old Engine 3
Here's a beautiful sight. This 1951 American LaFrance 700 Series pumper was saved from the scrap yard last year by a member of the Raleigh Fire Department. It originally served as Engine 3, then as Engine 8 (1963), Engine 14 (1974), and Reserve C (1975). The 750 GPM, 150 gallon pumper cost $19,048.94 including equipment. It was delivered with high-pressure nozzles, which were the rage then. Changed from gasoline to diesel in the 1980s, the apparatus was sold in 1986. Its present condition resulted from open-air storage in Granville County over a couple decades. The owner's plans are to be determined. Few more photos coming.
Learn more about Raleigh's old engines
.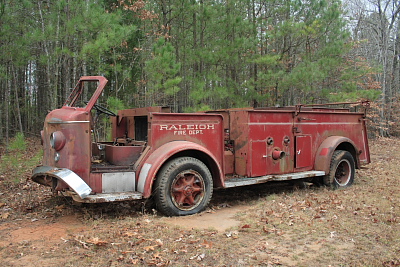 ---