10/29/08 177 W, 1 I - + 16 - 11 Highlands Hummer
We tooled to Highlands yesterday, where this police department Hummer was photographed. The elevation of the town 4,118 feet. They average 87.57 inches of precip per year, with only 6 average inches of snowfall. Highlands was formed in 1875 after its founders drew lines from Chicago to Savannah and from New Orleans to Baltimore. They felt that the intersection of these lines would make a great trading center and commercial crossroads. That's from Wikipedia.
One of the more interesting pieces of trivia about the town involves glaciers. After the ice masses destroyed plant life over much of the continent, the Highlands region became the refuge of many plants. When the ice age ended, the plateau and adjacent mountains became a botanical treasury from which the seeds of reforestation of North America were drawn. Thus the resemblance between their flora and that of Eastern Asia, which also survived the glaciers. Certain species of plants are found only in Highlands, India, Japan, and China. Wild, eh? Read more trivia.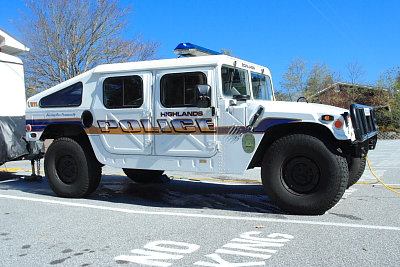 ---
On the hummer note, Wrighstville Beach PD also has hummer though it isn't quite as well kept up as the highlands one. Used during hurricanes.
WBFD - 10/29/08 - 13:13