04/20/09 143 W, 1 I - + 13 - 14 TWH + Seagrave
Speaking of die-cast models, Seagrave has announced a partnership with TWH Collectibles, to produce 1:50 scale replicas of Seagrave rigs. The first release is a series of tillers, lettered and specifically configured for Redwood City (CA), New London (CT), Somerville (MA), Leesburg (VA), and Washington, DC. Features and functions include "tilting cab revealing a detailed engine and transmission, extendable four section diecast ladder with extending waterway, functional outriggers, 180 degree tractor arc, accurate front bumper design, photoetch steps, diamond plate decking, accurate storage compartment design and detailed Marauder design with all the features." They'll be unveiled at FDIC, at the Seagrave booth. How much will these puppies cost? MSRP is $290. Definitely not an impulse purchase.
Read the press release
. Pierce/Oshkosh previously partnered with TWH, as this
FireNews blog talked about
. Very cool models.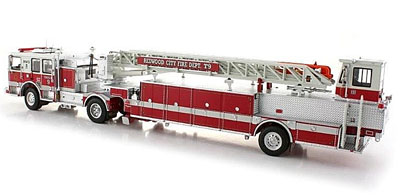 ---