05/27/09 164 W, 1 I - + 18 - 12 Urban Discovery / House of David
One of Mr. Blogger's favorite pastimes while traveling is urban discovery, an activity that falls somewhere between urban archeology and urban exploration. Basically, searching for modern man-made stuff, and with minimal intrusions on private property. Found during this week's visit to southwestern Michigan were the remnants of a former amusement park along Britain Avenue in Benton Harbor.
Part of the Israelite House of David religious community-- established in 1903 and eventually occupying 300 acres-- the amusement park included miniature trains that operated for sixty-five years. Below is a railroad crossing sign that remains on the property. Read about the trains, as well as the amusement park's history. Another web site has a aerial tour of the park grounds.
See photos of the site by Legeros. Today, the House of David is a historic and educational property, and includes a museum on the grounds. Another House of David museum is also located in Benton Harbor.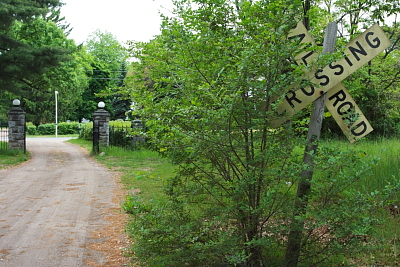 ---
Considerably closer to home, what's Heritage USA look like these days, the 2,300-acre religious theme park and complex in Fort Mill, SC? Found this urban exploration site, that includes a photo tour of the present property: http://www.illicitohio.com/SBNO/heritage..
Legeros - 05/27/09 - 19:43