06/12/09 323 W, 1 I - + 11 - 9 Look at the Golfs!
Photos have been posted
from yesterday's third annual
National Fallen Firefighters Foundation Golf Tournament
. They're the first sets of photos from Yours Truly, who again served as event photographer. The setting was
Eagle Ridge Golf and Country Club
, south of Raleigh. The occasion was raising money for the National Fallen Firefighters Foundation. Weather was nice, with a strong breeze, good cloud cover, and only a couple hours of blistering sunshine. Mr. Blogger brought a wide hat, but forgot his sunscreen. Just call me red neck.
Two cameras and three lens were utilized. One with tripod at the tenth hole, for team photos. Another for shooting course play, alternating between wide and zoom lens. The former-- a Canon 17-40 f4.0 L-- proved its durability when it fell from the photographer's pocket onto concrete. Only a couple scratches on the body, believe it or not. Even the lens shade stayed intact. As a bonus, the accident happened right before tee time, when the crowd was listening to the day's instructions. Nothing like a public accident. Memo to self, large lenses and small pockets are not compatible.
Most of the action shots were taken at the tenth tee. Tried assorted aperture and shutter settings to "stop the action." Alas, I couldn't cancel the blur of fast-moving clubs or balls. Camera limitation? Operator failure? I am guessing the latter. As for the day's subjects, the camera jokes were continuous. "Did you break the lens" was most popular, with "Better get the wide lens" as a close second. Other jokes about clubs, balls, etc. are best left to the imagination. Heard a number of Caddyshack quotes, as well. However, nobody yells "fore" anymore. Wonder why? Large time again had by all. See more tournament photos, from all three years.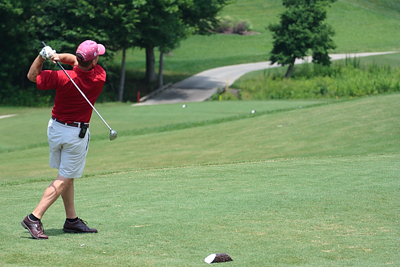 ---