08/31/09 98 W, 1 I - + 19 - 7 This Morning's Major Fire / Paula Street
Two alarms at
2408 Paula Street
. Engine 11 arriving at a one-story, metal commercial building with heavy fire showing through the roof in the rear. Building with 6,856 square-feet, built 1971. Used as entertainment facility. Declared major working fire on arrival. Dispatched 4:55 a.m. Controlled 5:44 a.m. Units on scene included E11, E9, E6, E7, E3, E13, E1, L2, L4, R2, R1, B2, B1, C10, C20, A1, EMS 11, EMS 1, D1, D5, T1.
Preliminary photos posted by Legeros
. More later, and photos from Lee also forthcoming. He arrived much earlier.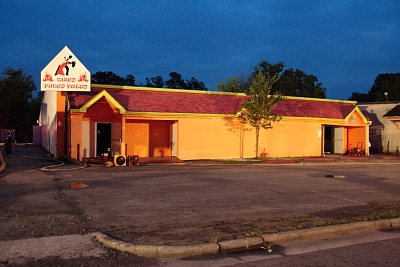 ---
Ironic that the club's name was/is "Fuego Fuego". I scoped that place out last year on a lazy day of cruising around the city. My first thought was, if that place ever goes up, I hope it's after hours. Three sided view last year showed no windows, just a few doors. Anyone that was there, can you provide a description of the layout of the inside?
Silver - 08/31/09 - 12:23
Why in the world does radio reference now require a premium subscription to listen to the archives!!! What about this fire constituted the request of a second alarm, out of curiosity?
Adam - 08/31/09 - 14:57
Silver…Interior B side wall: Pool tables up to the door on same side. Accessed by the door on the left….misc seating along interior D side wall, accessed by door on right. "Apartment" (or so I was told and HARD to see by what was left)attached in the back where the heaviest damage shown. Bathrooms and bar along interior C side wall. Setup left the "main floor" open for patrons. Adam…I thought the best practice was to call for alarms by its "potential" in order to keep from playing catch-up if the fire gets away from you. In my opinion, using that logic was is good one and needed in this case due the fact that it was a somewhat large commercial building with large truss roof and open floor. Had the fire gotten into the overhead it could have been much worse to say the least. Great job by the first arriving companies both in setup and attack and its upgrading to a second alarm. Better to have it and not need it than need it and not have it. Be safe brothers.
KOM - 08/31/09 - 16:22
I meant to say "Large *span truss roof".
KOM - 08/31/09 - 16:24
Ewwww, span truss roofs…goes to show, you never know if someone is living in a place or not, hence the "apartment" that was inside.
Silver - 09/01/09 - 21:43