09/07/09 100 W, 1 I - + 10 - 14 Fire Station Slides in Wilson
As discussed in a
prior posting
, slides were installed instead of poles in a pair of Wilson fire stations. These stainless-steel chutes are present at Station 3 and Station 5, one each. They effect rapid egress from bedrooms to apparatus floor. That is, very rapid egress. There's wall padding waiting at the bottom.
See more including one in action
, or learn more about the
Wilson Fire Department
. This roving report was sponsored by a craving for corn sticks and chicken at
Parker's Barbecue
on Sunday afternoon. And they were
good
.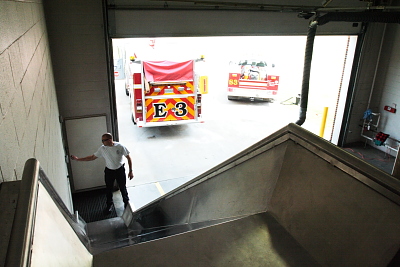 ---
And one joke. What did the firefighter say after he landed wrong at the bottom? Chute!
Legeros - 09/07/09 - 09:11