09/23/09 117 W, 1 I - + 9 - 8 Pink Heals Tour Stop, Sunday, October 4
On Sunday, October 4, the Pink Heals Tour, formerly the Pink Ribbon Tour, is appearing at Triangle Towne Center from 12:00 p.m. to 4:00 p.m. They'll be parked on the west side of the shopping center, between Dillard's and Macaroni Grille. The Raleigh Fire Department is hosting the event, and invites everyone to attend.
The Pink Heals Tour is a non-profit organization founded firefighter Dave Graybill. They drive pink apparatus across the country to support women who fighting cancer, and inspire men to become involved. This year's tour includes three pink fire trucks and the sculpted Ribbon of Hope. See photos from last year's visit.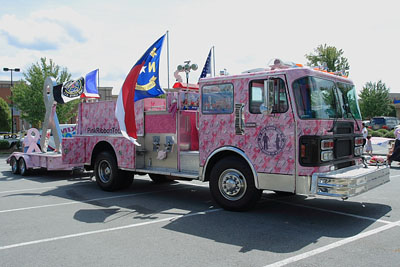 ---