09/23/09 140 W, 1 I - + 13 - 5 Remembering Hugo
As found on Firegeezer, who found it on SConFIRE.com, the Charleston Post and Courier has published an excellent retrospective of Hurricane Hugo's strike on September 21-22, 1989. While Charleston was battered-- with more than half of the city's 4,000 historic structures suffering damage-- the suburban communities and surrounding lowcountry suffered the worst damage. On Folly Beach, about 80% of the homes on the island were destroyed.
The Charleston area also recorded a tidal surge of nearly 20 feet, which is the record for the highest Atlantic surge in the United States. The Category 5 storm saw winds as high as 140 mph. In the United States alone, damage totaled $7 billion, then the costliest hurricane in the country's history. A total of 37 people were killed in the states from the storm. Read the Wikipedia entry on Hugo.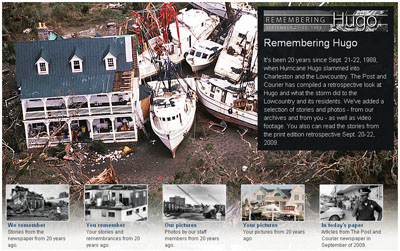 ---