10/30/09 592 W, 1 I - + 19 - 13 History and Annexations
Why are we blogging about former fire departments of Mecklenburg County? Mostly, it's just general historical research. Adding additional information to our
slowly expanding database
. But there's also current relevance, at least in the case of Charlotte annexations. Perhaps we can gain some insight in Wake County from how fire departments in Mecklenburg County adapted to the expansion of the city limits.
Take the case of the Sharon Fire Department, as profiled in the Charlotte Observer on April 9, 1980. Fire Chief Don Creason noted his 25-member department had relocated three times in seven years. The department, which organized in 1959 and protected areas along Sharon Road south of Charlotte, operated their first station at the corner of Fairview and Sharon Roads. They moved south in 1973 to a new station near Sharon Road and Champaign Streets, after annexations in 1970 (?) took many of the homes it served. And the station land.
Within a few years, however, the new station location was again annexed. In 1978, the department began building a third station at 6325 Carmel Road, and after assurances by city planners that they'd be safe from annexations for about five years. The $100,000 building was occupied January 1, 1980. Exactly two weeks later, the city announced plans to annex the station and most of its service area on Carmel Road Extension on June 30, 1980. Creason noted that the department was in debt about $11,000 for the building. Their operating expenses were about $12,000, and they received about $4,800 a year from the county. Resident's contributions typically made up the difference.
What happened next? By the time of a Charlotte News article on fire departments and annexations on March 27, 1984, Creason was chief of the Carmel Fire Department, renamed from the Sharon Fire Department. He noted that call volume was unpredictable. They "might not get a call for two weeks and then get four in one day." The article also notes that some of the volunteer fire departments had added rescue squads, and trained members as EMTs to provide additional services for their communities. Carmel Fire Department remained in operation until 1994 or 1995, when it merged with Carolina Fire Department. Source for that is a Charlotte Observer article dated July 20, 1994.
The Charlotte News article from 1984 also detailed the disposition of Wilkinson Boulevard and Moores Chapel fire departments, which merged on January 1, 1984, to form West Mecklenburg Fire Department. The old stations were still being used, with MCFD as WBFD #1 and WBFD as WMFD #2, while a new station was being built for the 66-member department on Sam Wilson Road. Fire Chief Herb King of West Mecklenburg #2 recalled that four of five years ago, Wilkinson Boulevard, which itself had relocated further west prior to 1967, answered 170 calls annually. In the past year, they responded to fewer than 50. "It's hard to keep up morale and training and interest with so few fires," he noted. He added that the merger and relocation would likely lead to resignations from members who live too far from the new station.
The article also notes that a state law was enacted during the last session of the General Assembly-- is that 1983 or 1984?-- that requires an annexing city to contract with a volunteer fire department to continue providing service to the annexed area, and for five years, if the volunteer department requests such a contract. This law provided a way for fire departments to recover revenue lost in annexation. Is this law still on the books today? Not known.
Here's an annexation history map from the 1980 article: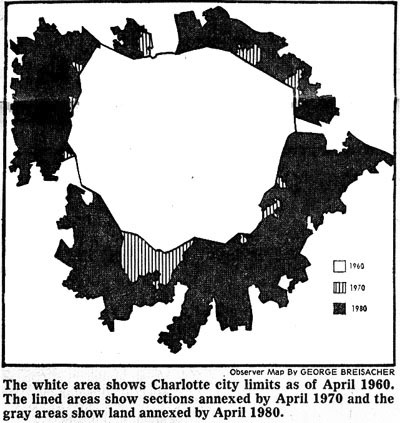 ---