09/05/12 123 W, 3 I - + 21 - 25 UPDATED: Frat Truck / Greensboro's Old Quad
September 2012
Merely six year after our original posting, a reader comment reveals the origin of this fire truck. It's a former Greensboro rig, an American LaFrance 700 Series quad. Meaning, a service ladder truck also equipped with a pump. Note the booster reel in the top photo, scanned from Greensboro Fire Department 1926-2001. The second photo is from 1974, from the News & Observer. Readers can perhaps tell more. Click to enlarge:


August 2006
Lee Wilson wonders where this long-time fixture from Fraternity Court is from. It's a probably a 700 Series, so it's 1950s vintage. Hasn't the frat had it since at least the 1980s? Anyone know the story on this thing?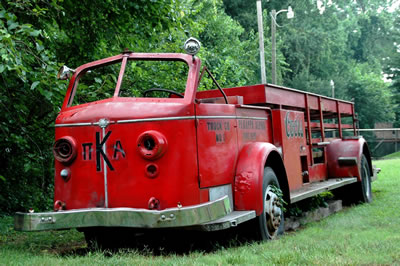 ---
I'll do some investigating and get it to you guys…I have a few contacts on frat court.
Silver - 08/03/06 - 14:23
It's the symbol of Pi Kappa Alpha. All PKA's have one
pal - 08/04/06 - 23:09
seems to have a bit of a storied history, take a look towards the bottom of the page

http://www.thewolfweb.com/message_topic...
CFP 7021 - 08/07/06 - 12:41
lol that is my dads fire truck.. he was a pike in the 70s and went to greensboro with some brothers and bought that truck for 800 bucks. the coors painters came in for free and painted the letters. the boys would drive between peace, meredith and St marys(jr college) and pick up the girls.
banks - 09/05/12 - 00:08
I remember seeing it when my brother became a pike back in 1977. Don't think it was running when I was at State in the late 80's. Damn I'm feeling old…
D.Cates - 09/06/12 - 12:35
I rented a room for two summers in the Sammy house, in the mid-1980s. I remember seeing the truck, and I think it was even moving.
Legeros - 09/06/12 - 12:40
Interesting that you stayed in the Sammy house Mike! We used to rent out rooms that were vacated during the summer due to people going home to stay with their parents. I was a Sammy from 1997 until 2001 and the truck was definitely not running then. I remember that the paint was faded but the truck was not as beat up looking (missing headlights, etc.).
Bob P. - 09/06/12 - 12:55
I am a current Pi Kappa Alpha at UNC Greensboro right now. Does this truck still exist?! If so would we be able to talk about maybe buying it or having it donated? We have been looking for something exactly like this and would be thrilled if someone could get in contact with us.

My email is mwhowell@uncg.edu
Michael H. (Email) - 10/11/12 - 18:07