12/01/09 83 W, 1 I - + 10 - 9 Atlantic Beach Rescue 34
Photographed early Friday morning at a Morehead City gas station, this is
Atlantic Beach Fire Department's
Rescue 34, a 2006 Mack/Hackney heavy rescue with a Mack MRU612 tilt cab and a Hackney DF0973R body with recessed roof storage.
Read more about the apparatus
. ABFD operates from a single station and includes EMS services. Their fire apparatus also includes a 2004 E-One 75-foot quint, and a 1991 KME 55-foot quint. More pics from down east forthcoming.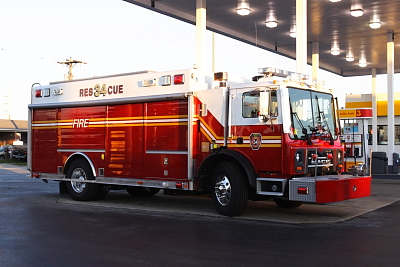 ---
That's one sharp looking truck, looks like it meets the needs without being over the top. I have a soft spot for those Mack cabs
CFP 7021 - 12/01/09 - 13:45
So do I Shev…I think in part it's the "go to hell" bumper.
Silver - 12/01/09 - 14:48
^ Silver actually had me laughing out loud (LOLLer) at the "Go to hell" bumper reference. I think my exwife actually had one of those on her car if memory serves me right…glad I no longer have to pay for her car insurance ;)
Marshall Sherard KE4ZNR (Email) (Web Site) - 12/01/09 - 22:58
LOL!
Silver - 12/01/09 - 23:28