12/10/09 86 W, 1 I - + 10 - 3 You'll Shoot Your Eye Out!
Firehouse.com reports via KPTV
that Vancouver, WA, firefighters helped rescue a boy's tongue stuck to a flag pole Wednesday morning. The unidentified lad reportedly received a "triple-dog dare" prior to his winter physics lesson. Extrication at the middle school involved warm water, with subsequent patient treatment including hot chocolate and cookies. No further medical attention was required. Everyone went home and perhaps watched
A Christmas Stor
y another time. Ho. Ho. Ho.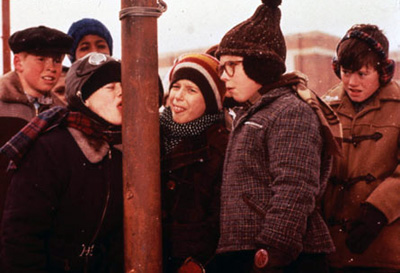 ---
Mitro!!!
Silver - 12/10/09 - 10:57
Everyone has a twin!!!!!
Jakey - 12/10/09 - 18:06
Yes I was thinkng Mitro also Silver
Apex Batt Chief - 12/12/09 - 17:47
I didn't give him that nickname in the academy for nothin'!!!
Silver - 12/12/09 - 23:27