12/17/09 184 W, 1 I - + 7 - 4 Charlotte as Finalist for Social Media Responder of 2009
The Charlotte Fire Department is one of six finalists for Social Media Responder of 2009, an award sponsored by PIO Social Media Training. The other finalists are Bellevue PD, Chronicles of EMS, Eric Neitzel (Show Low, AZ), Los Angeles Fire, and Montgomery County Fire Rescue.
The Charlotte Fire Department has been actively engaged in social computing for some time, using numerous applications to communicate with the public, news media, fire service news media, and other emergency responders. They've set a high bar both regionally and nationally.
The CFD Office of Public Affairs is operated by Captain Rob Brisley and Captain Mark Basnight. Vote for them online at the awards site. You can vote once every 24 hours. The polls close at midnight on December 29.
Follow the Charlotte Fire Department on Twitter at http://www.twitter.com/CharlotteFD, or read their News and Information Blog at http://www.charlottefiredept.blogspot.com.
The Carolinas Fire Page mailing list passed along this information, which is reprinted nearly verbatim. Thanks to the original author.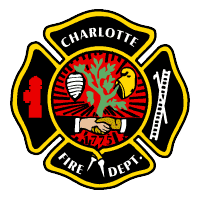 ---