12/23/09 199 W, 1 I - + 8 - 10 Bessemer Fire Department
We're still trying to crack the nut of the Bessemer Fire Department in Guilford County, likely the county's first rural department, and one of the state's first. Today's trip to the Greensboro Public Library added a few more facts. Here's what's known. They protected the unincorporated community of Bessemer, on the east side of the city.
They operated from around 1945 to around 1958. Their one-story, concrete-block station at 610 Elwell Avenue was operational by 1950. That year, say Sanborn Maps, the volunteer department had a Chief, Asst. Chief, Captain, 31 men, a "station man" on duty at all times, alarms sounded by telephone, and a 1942 Chevrolet/American 500/200 pumper as apparatus. The building was built in 1940, say tax records.
What happened after about 1958? Don't know, but nearby District 14 Fire Department had formed in 1954. They were located-- or later located-- at 820 Franklin Boulevard, merely 1.6 miles away. Perhap the older department became part of the newer department? District 14 FD merged with Greensboro FD in 2005. Their old station is now GFD Station 56.
Here's the old Bessemer fire station, now a barber shop and beauty salon. The identity of the pictured patron is not known.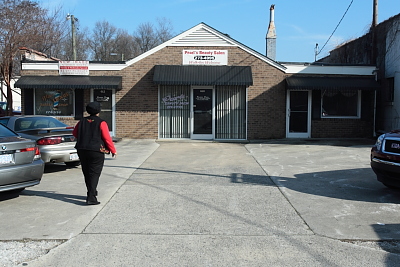 ---
I can tell you what happened as I'm a lifelong Bessemer resident. Annexation of the Bessemer Community by the City of Greensboro was completed in 1958, the fire station was closed by the City as was the Bessemer Community Center and numerous other community supported functions which would not return until decades later.

The Franklin Blvd Fire Department was a Guilford County department and until the 1980s the city and county did not answer calls in each others' territories. Fire control for our community was moved to the fire station on the corner of Wendover and Gatewood some years after the Bessemer Fire Department was closed.
Billy Jones - 05/15/15 - 02:22
Thank you, Billy. I've found precious little about the Bessemer Fire Department over the years.
Legeros - 05/15/15 - 21:41
and here's a later blog posting, showing the Sanborn Fire Insurance Map showing the fire station location, http://www.legeros.com/ralwake/photos/we..
Legeros - 05/19/15 - 08:15