12/25/09 100 W, 1 I - + 9 - 5 Christmas Day in the Morning
Happy holidays from ours to yours. Thanks for your gift of service. Thanks for my gift, your support of my service. What's happening at your station on Christmas Day? Feel free to post.
At Blog Central, we're settled in with pajamas and presents. And probably more blogging. The morning excursion found Waffle House hopping on Capital. Standing room only as the Chipmunks crooned on the juke.
Here's Engine 11 arriving at a car fire on Hodges Street a couple hours ago. Hopefully there won't many be blue Christmases today.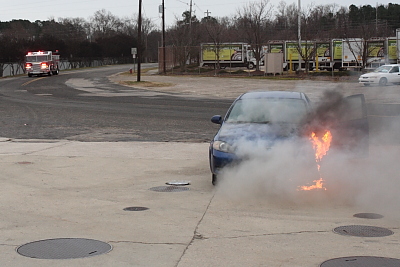 ---
I bet your pj's are worse off for our eyes then your shirts. not that we want to see them though.
lee - 12/25/09 - 17:03
Working Engine 9; a nice lil' breakfast, three runs (house fire, MVC, MVC), and a nap so far. Right now we're dipping into some oysters, that hopefully weren't brought in from Louisiana.
Silver - 12/25/09 - 18:22
Hangin' out in The Peak, me and Hockey Dude. Providing compassion,hand holding, oxygen, and a diesel drip for those in need since 2200 last night. Transfer, sick call, respiratory distress, sick call…that's it thus far…
DJ - 12/26/09 - 00:10